"Abandoned" Thai version wins 'Best Drama for Family and Society' at Maya Awards 2019.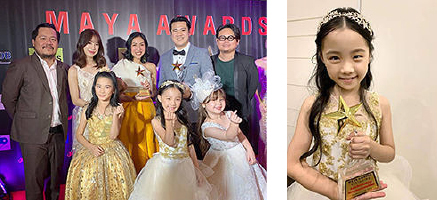 The team (L) | Lead actress Maki Machida (R)

The Thai adaptation of Nippon TV's social hit drama series and scripted format "Abandoned" was named "พรุ่งนี้...จะไม่มีแม่แล้ว" in Thai, meaning "Tomorrow, my mother will not be here". It aired on LINE TV in the Spring of 2019 and became an instant hit with the viewers in Thailand.
It went on to receive the 'Best Drama for Family and Society' at Thai's prestigious Maya Awards 2019 held last week. Nominations and awards are given to each year's best actors/actresses as well as local productions, making the Awards a Top Entertainment Awards in Thailand. Nominations and winners of awards are judged by a selected panel represented by major film critics and filmmakers, including directors, actors, and actresses. www.facebook.com/mayachannelpage
Comment From JSL Executive Producer (Thiti Sutthikulphanich) :
"We are truly delighted with the award. It's quite rare in Thailand that this type of drama would be so well received. The feedback from the audiences have been really great. So what we have achieved so far is something extraordinary."
The deal marked the first time a Nippon TV scripted format was adapted in Southeast Asia, and negotiations for adaptations in more countries are underway, to be announced shortly.
http://www.ntv.co.jp/english/pressrelease/20181204.html


ABOUT "Abandoned"
http://www.ntv.co.jp/english/pc/2014/01/abandoned.html
"None of us expected that our moms would suddenly leave us..." 
Abandoned is a touching drama as seen through the eyes of children facing the harsh reality of life in an orphanage. While facing many challenges, these young children long to be adopted. Only after agreeing to become a member of a new family, the orphans learn of their past given names. Are innocence and happiness lost forever when abandoned or will these children ultimately find their place in the world? This series will take the viewers into the hearts of children while displaying what it means for them to love and be loved.


Read more (link to NIPPON TV)