[TBS] Japanese Format Powerhouse new strategic partnership sees first format launch at MIPCOM
Tokyo Broadcasting System Television, Inc. (TBS) has been distributing content across all genres for over half a century. With a well-earned reputation for innovation and a pioneering approach to the non/scripted and reality format business, TBS has licensed, in association with Bellon Entertainment Inc, over 200 localized formats globally and many thousands of episodes.  These include long-running global hits like: 'America's Funniest Home Videos' (the UK's 'You've Been Framed'), 'Takeshi's Castle', 'Happy Family Plan (the UK's 'The Moment of Truth') and the incredible 'Ninja Warrior / SASUKE' just to name a few.

Further, TBS has been exploiting the full commercialization of it's IP and expanding global businesses 360 degrees. This covers conventional program and format distribution, merchandising, publication, gaming, tie-ups and even theme parks.

Now, to support their substantial IP pipeline and create and introduce new reality/non-scripted formats, TBS is partnering with a renowned industry and format specialist to bring the next global hit out of its creativity and format gems. Dave Winnan, a British television executive (CEO, Global Creatives Ltd) has developed and launched over 100 Productions and pilot seasons globally including: I'm A Celebrity Get Me Out of Here, Hell's Kitchen, Love Island, How I Met Your Mother, Come Dine With Me, Saturday Night Takeaway, Chinese Dating, The Chase, Game of Chefs, Surprise Surprise, Four Weddings, Nothing but the Truth and many more.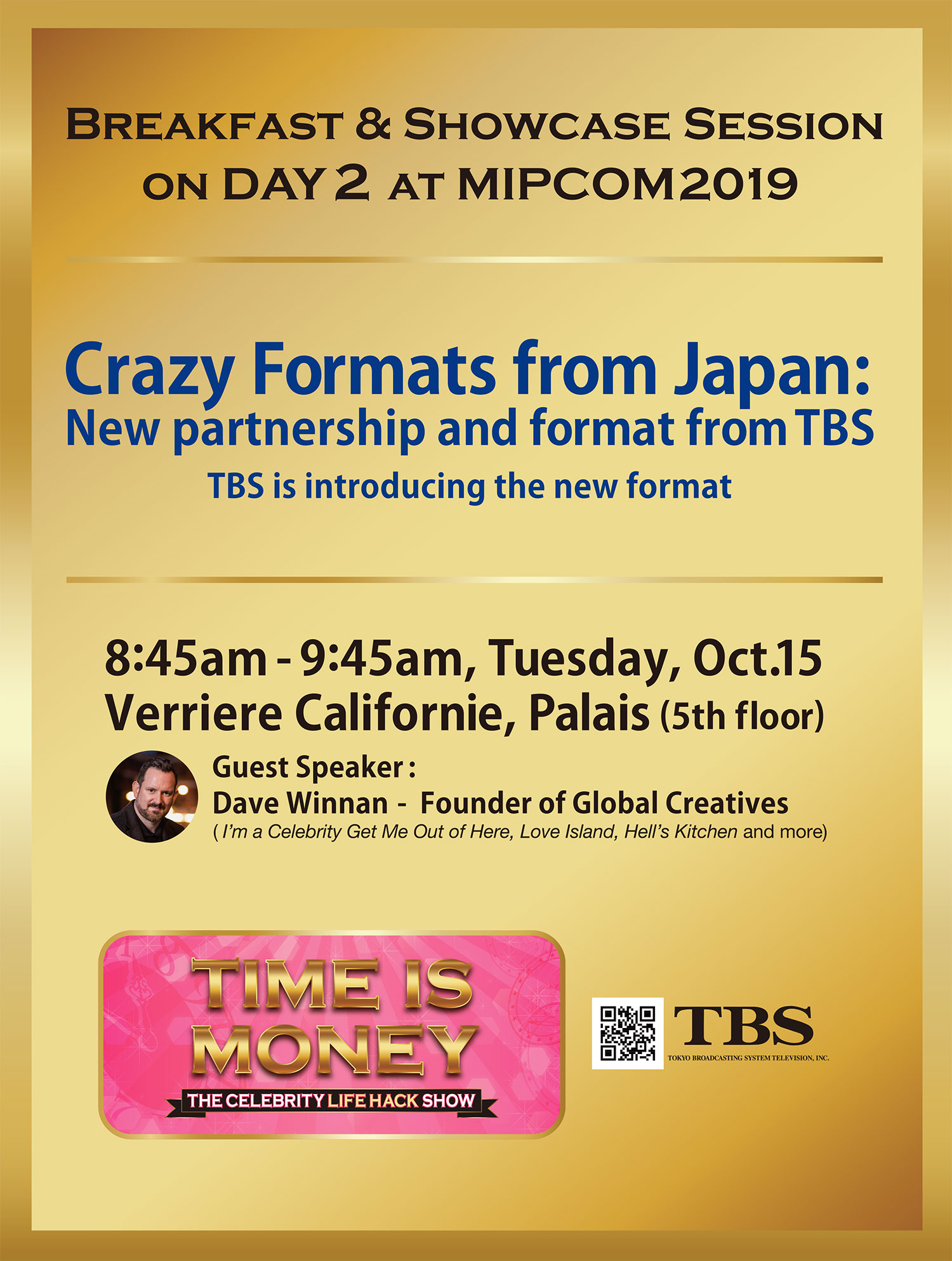 Together with him, TBS is introducing its next big format from the roster: "TIME IS MONEY – THE CELEBRITY LIFE HACK SHOW," the 1sttangible fruit out of the new partnership, at this coming MIPCOM.
It will be introduced at the morning session hosted by TBS on Tuesday, October 15, 8:45am to 9:45am, at Verriere Californie on the 5thfloor of Palais de Festival during MIPCOM. More details will be revealed then. Admission is free and it comes with a light breakfast. Come find out more about it and be a part of potential next global hit!
 
For more information (link to TBS Program Catalog)

"TIME IS MONEY – THE CELEBRITY LIFE HACK SHOW," Program Information