Cherry-picked TV show trailers from over 20 broadcasters across Japan are now viewable on world-renowned platform C21 Media. With a wide range of dramas, food shows, travelogues, documentaries, and much more to choose from, buyers are sure to find formats perfectly suited to their own markets.
Just click on the links on the C21 Screenings website to contact the sellers directly. This project is made possible by the first-ever collaboration between C21 Screenings and the Japan Program Catalog (JPC), a vast content showcase operated by the Broadcast Program Export Association of Japan (BEAJ) - an organization that has a membership of more than 80 broadcasters and content producers from across the archipelago.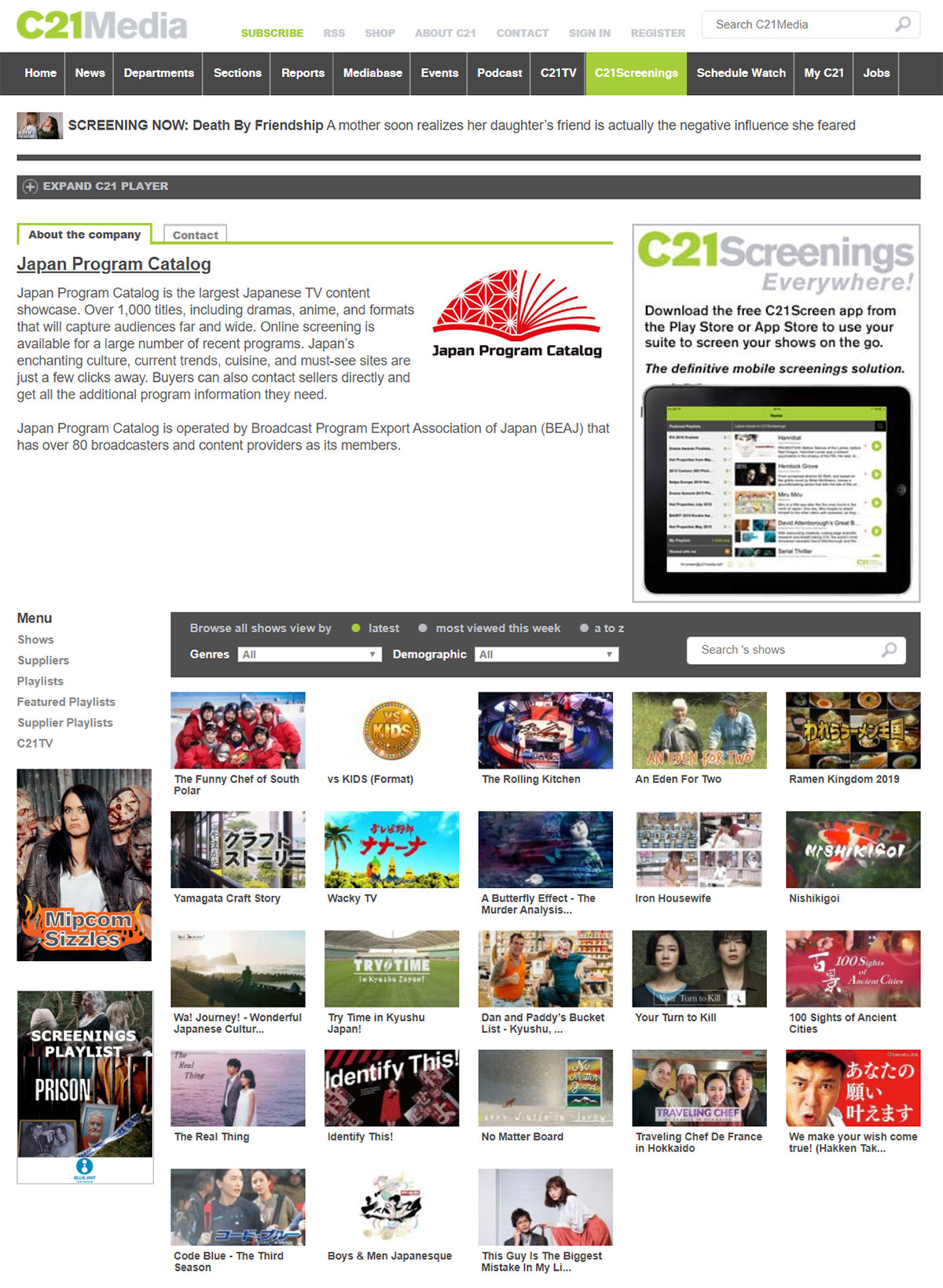 Japan Program Catalog on C21 Screenings
 
---

Trailers Screening

Dramas

"Your Turn to Kill" | Nippon Television Network Corporation
"Code Blue" | Fuji Television Network, Inc.
"This Guy Is The Biggest Mistake In My Life" | ABC Japan 
"The Funny Chef of South Polar" | Television Osaka, Inc.
"A BUTTERFLY EFFECT - The Murder Analysis Team-" | WOWOW
"The Real Thing" | Nagoya Broadcasting Network Co.,Ltd.


Formats / Entertainment

"vs KIDS" | TV Asahi Corporation
"The Rolling Kitchen" | Yomiuri Telecasting Corporation
"Identify This!" | Kansai Telecasting Corporation
"Iron Housewife" | Tokai Television Broadcasting Co., Ltd.


Animation

"Wacky TV" | ​TV TOKYO Corporation


Travel / Food / Culture / Sports / Documentaries

"Traveling Chef De France in Hokkaido" | ​Hokkaido Broadcasting Co., Ltd.
"No Matter Board" | Hokkaido Television Broadcasting Co., Ltd.
"Yamagata Craft Story" | Yamagata Broadcasting Co., Ltd.
"Ramen Kingdom" | Yamagata Television System, Inc.
"Boys & Men Japanesque" | Chukyo TV. Broadcasting Co., Ltd.
"NISHIKIGOI" | Television Niigata Network Co., Ltd.
"An Eden For Two" | Yamaguchi Broadcasting Co.,Ltd.
"100 Sights of Ancient Cities" | Nihonkai Telecasting Co.,Ltd.
"Wa! Journey! - Wonderful Japanese Culture" | San-In Chuo Television Broadcasting Co.Ltd.
"We make your wish come true! (Hakken Rakuchaku)" | Fukuoka Broadcasting System Corp.
"Try Time in Kyushu Japan!" | Oita Asahi Broadcasting Co., Ltd.
"Dan and Paddy's Bucket List - Kyushu, Japan" | RKB Mainichi Broadcasting Corp.