News
TBS Variety Show Otoraction Takes First Place at ContentAsia Awards 2021
2021.09.03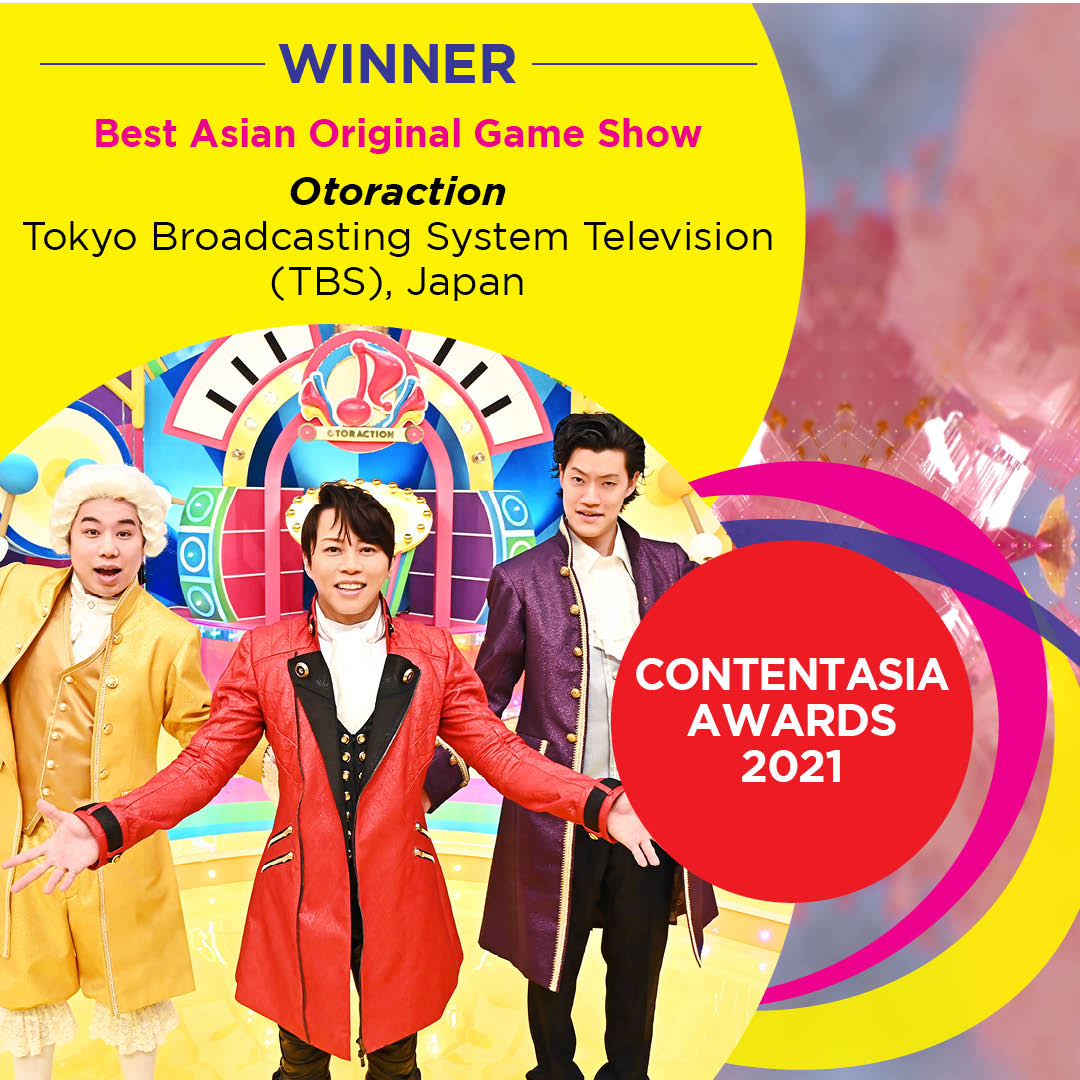 On August 27 the TBS sound variety show Otoraction produced by Tokyo Broadcasting System Television, Inc. (TBS) won Best Asian Original Game Show at the ContentAsia Awards 2021. The title"Otoraction" combines the Japanese word "oto" (sound/music) with "attraction", and it's a brand new music-themed game show format that appeals to people around the world. 
ContentAsia, Asia's leading entertainment industry magazine, holds the ContentAsia Summit international television program trade fair in Singapore every year, and in 2020 also began the ContentAsia Awards. Selected entertainment business leaders representing Asian countries serve as judges, carefully evaluating the most compelling content produced each year in Asia.
As in 2020, the awards ceremony was held online this year due to the pandemic. The event was streamed all over the world, and followed closely not only by Asian industry leaders, but also by entertainment leaders in the West, who have been watching Asian markets increasingly closely in recent years for influential new content.
Otoraction is broadcast every Tuesday starting at 7 pm. Singer Takanori Nishikawa and the comedy duo Shimofuri Myojo are the MC team, and take part in the games. Teams face off in fun competitions relating to sound, melody, and rhythm. It's a bit like being in a digital game, but very much live. It's all about music and other sounds, full of singing, dancing, laughing and hilariously exasperating sound-related games.
This award will further strengthen TBS's position in the international market, as the company continues to develop and distribute popular new formats.

Comment by Otoraction producer Yuzo Kuga:
"I believe the popularity and recognition of Otoraction is sure to increase going forward, and I'm very pleased to be honored with the top prize in this category. It is also very gratifying that Otoraction was a winner in a contest TBS entered for the first time. This is thanks to the great work of the performers and the whole team, including Takanori Nishikawa and Shimofuri Myojo! I'm confident this award will attract the attention of even more viewers as we work to take the show to new heights. Thank you for your support!"

About TBS's Global Activities
TBS has been an aggressive player on the global TV market for over half a century, with its first forays into overseas markets dating back to the 50s. Over the years, TBS has worked with Bellon Entertainment Inc. to build a reputation as a format powerhouse. TBS formats such as "Ninja Warrior," "America's Funniest Home Videos," "You've Been Framed," "Takeshi's Castle" have resulted in thousands of episodes being produced worldwide in 200+ local versions. On the distribution side, TBS's TV shows and movies of all genres including drama and anime are being enjoyed in 160+ countries/territories. Leveraging the strength of its creative assets, TBS is further reinforcing its initiatives with a 360-degree content marketing strategy which includes merchandising, publishing, theme parks, AR/VR and other multi-faceted uses of its IP. With such a track record, TBS has established its presence as a leading content provider in the global TV market.

For Inquiries, please contact our representatives through our Program Catalog,
at https://www.tbscontents.com/en/