News
Nippon TV and Envision Entertainment announce new co-production deal
2021.07.20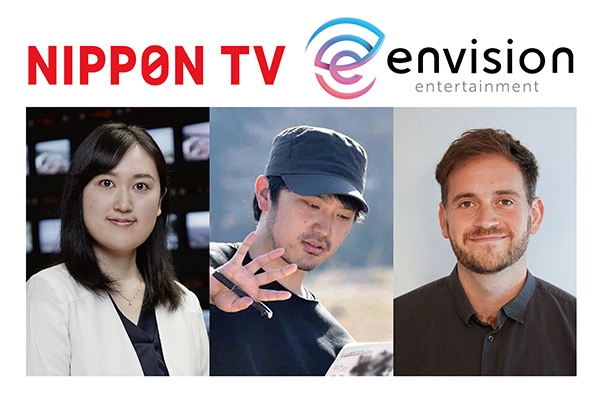 From left, Sayako Aoki (Business Producer), Itaru Mizuno(Creative Director), Michael Nakan(Founder of Envision Entertainment)


Nippon TV, Japan's leading multiplatform entertainment company, and Envision Entertainment, a premium media company based in London which specializes in creating international scripted projects with global appeal, have announced a new co-production partnership. The Nippon TV and Envision partnership will have creators from the two companies combine their Western and Eastern sensibilities to develop new scripted projects designed for the global market.
The first project in development is an innovative crime drama series which takes place largely online and is perfect for today's digitally connected world. The concept is inspired by the successful scripted format "Double Booking" produced and broadcast by Nippon TV in 2020. The crime story unfolds in a shared online world, with a cast of international characters connecting with each other through the internet and using their online research skills to solve mysteries. As the mystery spreads over international borders, the plot thickens in the least expected way.
A Japanese version of the series is slated with the storyline leading directly into an international English language series. Further details of the coproduction will be unveiled later this year.
This is the first in a pipeline of projects between Nippon TV and Envision. The two companies intend to develop a slate of projects based on Japanese properties with international appeal and have already begun discussions with some of Japan's premiere manga publishers to source IP.

For more infotmation (link to NIPPON TV)