News
"OASIS -a love story-" remake to air on FOX Turkey
2021.11.11
NIPPON TV'S OASIS -a love story- REMAKE SET TO AIR ON FOX TURKEY
STARTING NOVEMBER 11TH
MEDYAPIM TO PRODUCE TURKISH VERSION MISAFIR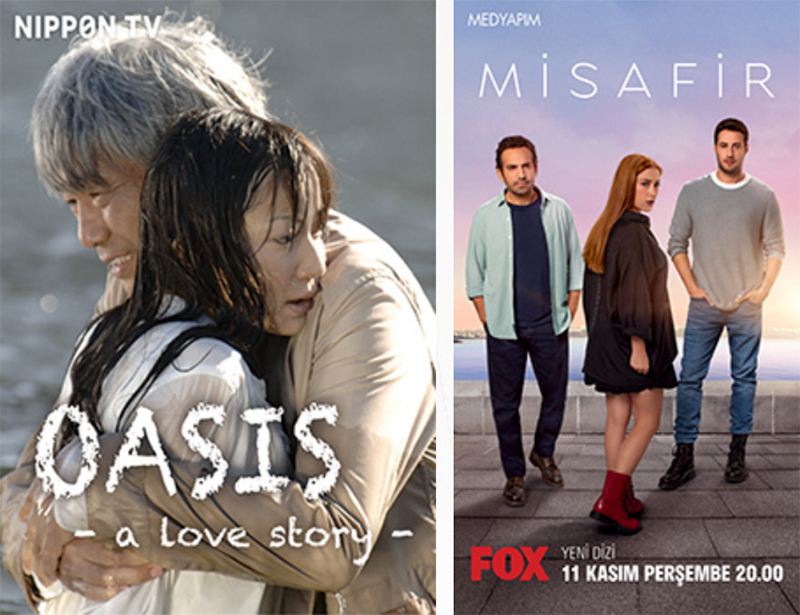 TOKYO, JAPAN – November 11, 2021 – Having already announced seven scripted format deals for Turkey, Nippon TV, Japan's leading multiplatform entertainment powerhouse, announced today that FOX Turkey is set to start airing Misafir, the Turkish version of its hit series OASIS -a love story-, on Thursday, November 11th. Misafir is produced by Medyapim, the leading production company in Turkey. The title means "the guest" in Turkish. The announcement was made jointly today by Mr. Keisuke Miyata, Head of Sales of International Business Development for Nippon TV, and Mr. Fatih Aksoy, President of Medyapim. OASIS -a love story- is written by Yoshikazu Okada, an award-winning scriptwriter for series and films as well as theater.
Nippon TV, Medyapim and MF Yapim have announced seven deals to date: Mother, Woman -My Life for My Children-, My Son, OASIS -a love story-, Abandoned, Mr. Hiiragi's Homeroom, and I'm Mita, Your Housekeeper.
Nippon TV's Mother and Woman –My Life for My Children- (Anne and Kadin in Turkey, Spanish titles are Madre and Mujer) were also produced by Medyapim and air in almost 50 countries around the world, creating a phenomenon wherever it airs. Mother is ranked as the most exported scripted series out of Asia to the world, according to research by K7 Media (May 2021).
QUOTE FROM KEISUKE MIYATA
"We have a trusted relationship with Faruk and Fatih from MF Yapim and Medyapim, and I fondly recall the time we pitched OASIS -a love story- to our dear partners at their office in Istanbul a few years ago. Fatih liked the theme and immediately decided to adapt this extremely touching story for the Turkish viewers. We also met with Fatih with our producer Masatoshi Kato, in Cannes, and it was exhilarating to witness the instant chemistry among the global creators. We are so excited with the Turkish production. It is as heart grabbing as ever, and cannot wait for the Turkish audience to enjoy, and for it to be distributed to the global audience as well."
QUOTE FROM MR. FATIH AKSOY
"We are proud to once again collaborate with Nippon TV on a project as remarkable as OASIS -a love story-. With a strong story as well as Hazal Kaya and Buğra Gülsoy leading the talented cast, we believe Misafir will also attain local and global success alongside our previous collaborations Kadın and Anne."
OASIS - a love story - follows a 27-year-old woman who leads an unhappy life without knowing the love of a family. Saddened by her unfortunate life, she attempts suicide by jumping off a bridge near her home. Unsuccessful in her endeavor, she stumbles into a local tavern and is befriended by a police detective who immediately takes her to the hospital. Upon waking up in the hospital, she realizes she has been unidentified and thinking she might be able to live a different life, she pretended to have lost her memory. The detective, who recently relocated to her hometown with his three children after losing his wife, decides to take care of her until she regains her memory and invites her into his family home filled with love, laughter and happiness. A story that started from a lie turns into an unexpected happy ending with a family she could only hope for.