News
Tuesday Night Drama "I'll Be Your Bloom" streaming on Paravi and Netflix in Japan! Global streaming on Netflix coming soon!
Streaming starts weekly from October 18 (Tue.)
2022.10.14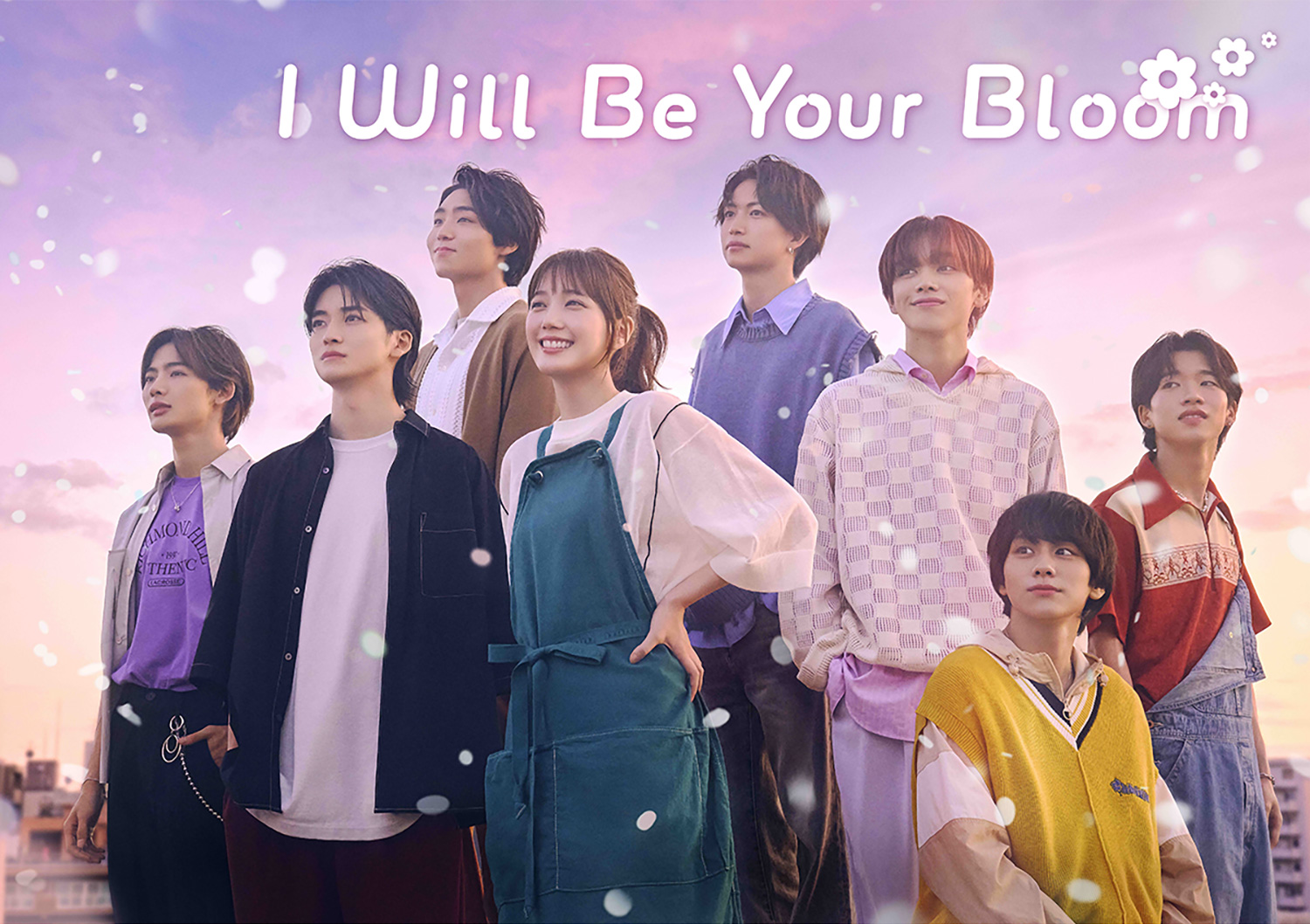 The Tuesday drama "I'll Be Your Bloom", which first airs at 10:00 p.m. on October 18th (Tuesday) on TBS, will be distributed domestically on the video distribution services "Paravi" and "Netflix", followed later by worldwide distribution on Netflix.
This is the second TBS drama to be available on Netflix following "JAPAN SINKS: People of Hope" which began streaming from October of 2021.
Asuka Nakamachi (Tsubasa Honda) is a former high school teacher who after a career setback becomes a dormitory mother for a struggling 7-member boy band called "8LOOM (Bloom)." Asuka is unexpectedly reunited with one of her former students in Dan Sagami (Fumiya Takahashi) and is inspired by his passion in leading the group in pursuit of their dream of becoming top performing artists. This reignites the passion Asuka had as a teacher and compels her to address her shortcomings in a story that also depicts the growth and renewal of a woman heading into her 30s and a new stage in love, work, and friendship.


■ Distribution Schedule
- Paravi: Video distribution immediately follows each episode airing from Episode 1 (Oct. 18)
- Netflix: Streaming in Japan begins Oct. 19 (Wed.) followed by episodic streaming overseas to be determined 

Episode 1 Synopsis:
Asuka Nakamachi (Tsubasa Honda) used to be an optimistic high school teacher who dreamed of "being like a flower, lifting the spirits of her students" until a setback forced her into an early retirement. Taking up residence in the house of her older sister, Yuri Nakamachi (Haruka Kinami), Asuka helps out at a food wagon run by Yuri who is preparing to marry her fiancé, Mitsuo Mitsuya (Tatsuhiro Kikuta). Needing to become independent again, Asuka jumps at a job offer for a live-in dormitory mother upon seeing the ad copy: "It's a job that supports young people full of potential." The dormitory turns out to house a seven-member boy band called 8LOOM, which never quite sold well enough to take off after their debut. Moreover, the leader of the group is one of Asuka's former students, Dan Sagami (Fumiya Takahashi). Though she's thrilled to see him, his reaction to her is somewhat chilly. Other group members are: Daijiro Naruse (Ryubi Miyase), the youngest but with the highest mental age, Yukiya Furumachi (Keito Tsuna), the oldest with a chivalrous spirit, Eiji Ichinose (Rintaro Hachimura), who is mature but mired in negativity; the spoiled and free-spirited Ryusei Hiyama (Shuto Mori); the outwardly cool but spacey Takumi Kurushima (NOA), and Takara Onodera (Koki Yamashita), who takes on the caring little brother role. All have their own unique quirks and traits. Dan tries in vain to spur everyone to keep pace with a rival group called Chayney, which debuted at the same time but is rising fast. That's when, 8LOOM is told by their agency president, Yuki Hanamaki (Mari Natsuki), that their contract, ending in six months, will not be renewed. The outlook is grim as the curtain rises on Asuka and 8LOOM's new life together.

■ "I'll Be Your Bloom" Official website and social media sites:
Official page
Official Twitter
Official Instagram
Official TikTok

■ Paravi official account channel
Twitter( @_paravi_ )
Instagram( @paravi.official )
YouTube

■ About Netflix
One of the world's largest entertainment video distribution services with over 221 million subscribers in over 190 countries and regions. Distributes a wide range of award-winning series, documentaries, feature films, mobile games and more in dozens of languages. Users can enjoy movies and series whenever and wherever they want on any internet-connected device. Moreover, a unique function recommends works that match individual user tastes, and makes it easy for users to find content they want to see. There are no advertisements or binding contracts.
- Netflix Japan official account
Netflix official site
YouTube Channel
Twitter @NetflixJP
Facebook
Instagram: netflixjp

Contacts
DX Strategy Department, DX Business Division, TBS Television Inc. 
Takaaki Kondo E-mail:kondo.takaaki@tbs.co.jp
Hinako Fukuda E-mail:fukuda.hinako@tbs.co.jp

General Publicity Department, Corporate Branding and Promotion Center, TBS Television Inc.
Hongpyo Choi  E-mail:choi.hongpyo@tbs.co.jp