News
[NIPPON TV] "Turn to me Mukai-kun" acquired by Netflix.
2023.07.10

NIPPON TV'S UPCOMING ROM-COM DRAMA SERIES
"TURN TO ME MUKAI-KUN"
TO STREAM ON NETFLIX JAPAN STARTING JULY 12
WITH GLOBAL STREAMING TO FOLLOW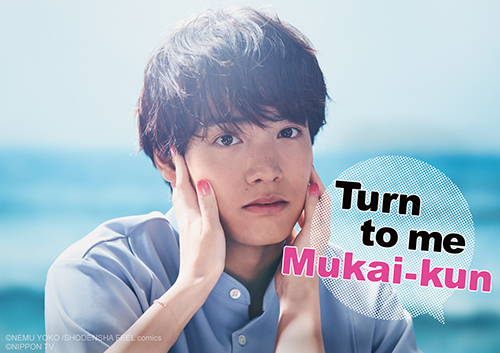 TOKYO, JAPAN – July 10, 2023 –Nippon TV, Japan's leading multiplatform entertainment powerhouse, announced today that Netflix, the world's leading streaming service, has acquired Nippon TV's upcoming ready-made rom-com drama "Turn to me Mukai-kun" (60 min. eps.). The series will stream on Netflix Japan starting July 12th, immediately after Nippon TV's Wednesday primetime air slot, with global streaming of the series to follow on all Netflix outlets. Hulu Japan will also stream the series immediately after Nippon TV's broadcast.
"Turn to me Mukai-kun" is based on the award-winning manga by Yoko Nemu, currently running on a popular monthly comic magazine. Popular heart throb Eiji Akaso stars in the leading role. In this captivating romance drama, viewers are immersed in the tumultuous dating journey of a 33-year-old man whose life seems perfect in every aspect except one—the absence of his true love. With his striking looks, charming personality, and successful career, he seemingly has it all, yet he continually falls short when it comes to matters of the heart. Thankfully, fate intervenes as he unexpectedly reignites a flame with an unforgettable ex. The series explores the story of a man who has lost touch with the intricacies of a relationship, a universal theme for anyone unlucky in love, or in search of that special someone.

Read more (link to NIPPON TV official site)

NIPPON TV program list