Animation
The number of (the)data : 3
Muhyo & Roji's Bureau of Supernatural Investigation
ムヒョとロージーの魔法律相談事務所
Are you a victim of unwanted spirit possession? Is there a ghost you need sent up and away... Master of magical law Muhyo (Toru Muhyo) and his cry baby assistant Roji (Jiro Kusanao) tackles all cases involving ghosts, monsters, and all things supernatural!

Highly anticipated anime adaptation of manga originally ran in Shueisha's Weekly Shonen Jump! magazine from 2004~2008. Ranked as Top 10 manga for "Most Wanted Television Adaptation" for three consecutive years since 2015 by influential anime site AnimeAnime.jp.

A sequel manga "Mazoku Magushi Arc" was launched on Shueish's Shonen Jump+ manga website and app in March 2018.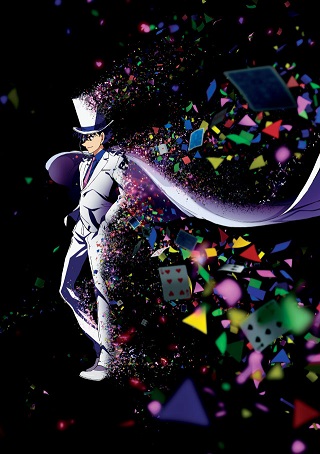 まじっく快斗1412
Kaito Kuroba is a seventeen-year-old high school student who is an adept magician due to the influence of his father, Toichi Kuroba who died mysteriously. Eight years after his father's death, Kaito discovers a secret room in his home that was set up by his father to reveal itself on that very day. Finding Kid the Phantom Thief's gadgets and costume in the room, Kaito dons the disguise and decides to confront Kid who has recently resurfaced after his eight years of absence. Kaito discovers Kid to be Konosuke Jii, his father's butler, who ascertains Toichi was the first Kid the Phantom Thief. Jii reveals he took on the role as Kid to lure out Toichi's murderer. Upon learning that his father was murdered, Kaito continues the role of Kid the Phantom Thief as he searches for his father's killer.

マジック好きの高校生、黒羽快斗(くろば・かいと)。父は天才マジシャンであったが、世界的な大泥棒怪盗キッドという裏の顔も持っていた。しかし、その父がマジック中の不慮の事故で他界してしまう。それから8年、快斗はひょんな事から父の裏の顔を知り、事故死ではなく何者かに殺害されたのではないかという疑惑を抱く。その疑惑に挑むべく、シルクハットと白いマントに身を包み、父の跡を継いで怪盗キッドとなるのだった―。
名探偵コナン
"Criminals beware . . . this miniature detective is on the case!
Over a decade of airing, still one of the top anime stories in Japan!!"

Conan Edogawa has an impeccable disguise that proves invaluable in his detective work. Conan is actually Shinichi Kudo, a 17-year-old boy forced to drink a poison that shrank him down to a seven-year-old size. Now, as Conan tries to figure out how to restore his body, he uses his amazing powers of deduction to help the local police solve crimes. This wildly successful series has been on the air for over a decade, has spawned more than 18 movies, and has even been made into live-action dramas. 

*Based on the original graphic novel "Meitantei Konan" by Gosho Aoyama published by Shogakukan Inc.